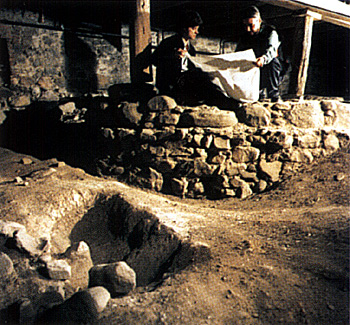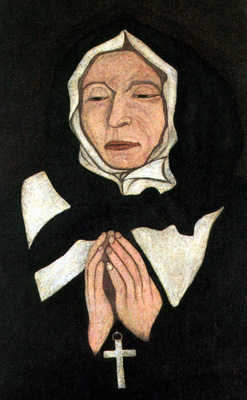 Marguerite Bourgeoys

(1620 - 1700)

On the left is a painting of what the first chapel of Notre Dame de Bonsecours may have looked like around 1675.  This is the church that Marguerite Bourgeoys, Sister St. Joseph and Sister Ste. Barbe would have know.  It was destroyed by fire in 1754; another church was later built on top of the ruins.  Archeological digs conducted in the basement of the present chapel in 1996 - 98 revealed the foundations of the first church!

is considered one of the founders of the City of Montreal.  Arriving at "Ville-Marie" in 1653, she opened a school in a stable on Saint Paul Street in 1658 and was the community's first teacher.  She spent 47 years of her life, educating the children of the colonists, young Natives and the "Filles du Roi" that arrived from France to marry.  She started the Congregation of Notre Dame, an uncloistered teaching religious order and was equally involved in creating a chapel, Notre-Dame-de-Bon-Secours.  She founded several missions and acquired farmland in Pointe Saint Charles where Saint Gabriel's farmhouse, still stands today.


Our family connection to this saint: two of the early mother superiors of the Congregation of Notre Dame who both knew the foundress.

1.
Marguerite Trottier
(Sister St. Joseph) 5th Mother Superior 1722-29 was the sister of Marie, the wife of Louis Guillet (the son of Pierre Guillet dit Lajeunesse and the brother of Mathurin) - our 2nd generation ancestral grandparents.  She spent several years as a missionary at
Fort Louisbourg
.

2. Elisabeth Guillet (Sister Ste. Barbe) 6th Mother Superior 1729-36 was the daughter of Mathurin Guillet and Marie-Charlotte Lemoyne.  Mathurin was the older brother of Louis.