Pierre Guillet dit Lajeunesse, during his first few years in New France, did not sign his name but left his mark. This is what he did on a document signed by the notary Jean Cusson, dated July 12th 1659.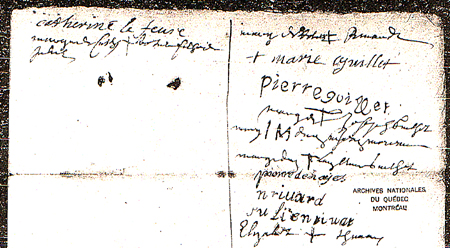 Our ancestor delt with many contracts in is life.  Luckily most of these are preserved in the National Archives of Quebec.  Some of these contracts pertained to construction projects, many involved the buying and selling of land concessions and some, such as the one above, concerned a wedding contract.  This one is for the marriage of his son, Louis Guillet to Marie Trottier, the daughter of Jean-Baptiste and Genevieve de Lafond (the next generation in our family line!)

I don`t beleive Pierre learned to read and write  BUT he did learn to sign his name on all those contracts.