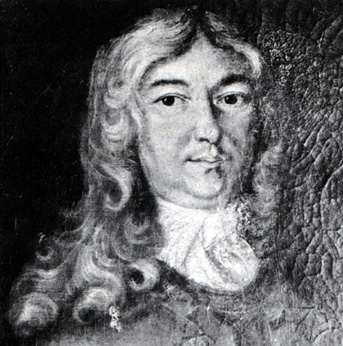 (1622 - 1717)


Pierre Boucher était un personnage important dans l'histoire de la Nouvelle-France.  Il a rencontré ou connu Samuel de Champlain, Jean Brebeuf, Marguerite Bourgeoys, Jeanne Mance, Marie de l'Incarnation, Francois Xavier Laval, 1
er
é
vesque de la colonie et Paul de Chomédey de Maisonneuve.  Il était le Gouverneur de Trois-Rivières entre 1653 et 1667. Il a fondé la ville qui porte son nom, Boucherville.  Notre lien: Marie Trottier était l'épouse de Louis Guillet dit St-Marc.  Sa grand-mère maternelle etait Marie Boucher, la femme d'Étienne Pépin dit Lafond et la soeur de Pierre!
Il a également été en contact avec plusieurs de nos ancêtres par la signature de contracts. Cela inclus Pierre et Mathurin Guillet, Nicolas Rivard, et Claude Houssard, beau-père de Pierre Guillet.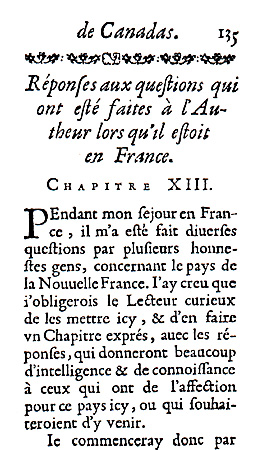 Comme ambassadeur de la Nouvelle-France à la court française, Pierre Boucher est allé en Europe le 22 octobre 1661.  Il a eu une rencontre avec Louis XIV, le Roi Soleil.  Il parla des mérites de sa colonie et comment elle soufrait par les attaques continuelle des Iroquois.  À son retour, Pierre Boucher écrivit un livre.  Une des pages est montrée à la droite.  Dans le livre, il chantait les louages de son pays et en même temps demandait de l'aide.  Le livre fut publié à Paris en 1664. Pour récompenser ses efforts, le Roi décida d'envoyer un régiment.  Les soldats de Carignan arrivèrent en Nouvelle-France à l'été 1665. Le 6 septembre 1666, 1 300 hommes: 600 soldats, 600 habitants et 100 amérindiens péntrèrent dans les territoires iroquois et détruirent plusieurs villages.  Pierre était impliqué dans cette expédition.  Durant son absence, M. Godefroy fut laissé en charge de Trois-Rivières et
Nicolas Rivard
dit Lavigne du Cap-de-la- Madeleine.
(1622 - 1717)


Pierre Boucher was an important figure in the history of New France.  He met or knew: Samuel de Champlain, Jean Brebeuf, Marguerite Bourgeoys, Jeanne Mance, Marie de l'Incarnation, Francois Xavier Laval, 1st bishop of the colony and Paul de Chomedey de Maisonneuve.  He was Governor of Trois Rivières from 1653 to 1667. He founded the city that bears his name, Boucherville.  Our connection: Marie Trottier was the wife of Louis Guillet dit St Marc.  Her maternal grandmother was Marie Boucher married to Etienne Pepin dit Lafond and sister of Pierre!
He also had dealings with several of our ancestors signing documents with them.  These include Pierre and Mathurin Guillet, Nicolas Rivard, and Claude Houssard, Pierre Guillet`s father-in-law.

As ambassador of New France to the French court, Pierre Boucher went to Europe on October 22, 1661.  He had an audience with Louis XIV, the Sun King.  He spoke of the merits of the colony and how they were undermined by the constant Iroquois threats.  Upon his return, Pierre Boucher wrote a small volume.  One of the pages is shown here on right.  It sang the praises of the developing colony and was, at the same time a plea for help.  In 1664, the book was published in Paris.  Due to his efforts, the King ultimately decided to send a regiment.  The Carignan soldiers arrived in New France in the summer of 1665.  On September 6, 1666, 1,300 men: 600 soldiers, 600 habitants and 100 Natives went into Iroquois lands, and destroyed several villages.  Pierre was involved with this expedition.  During his absence, M. Godefroy was left in change of Trois Rivières and
Nicolas Rivard
dit Lavigne at Cap de la Madeleine.