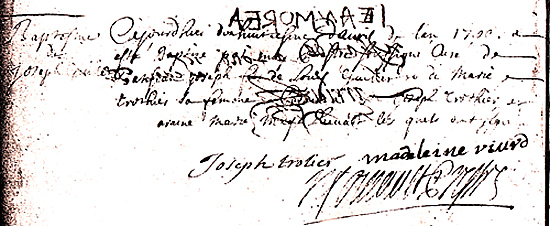 Old church records are obviously not always in pristine condition.  The baptism record of Joseph Guillet in the registry of Saint Francois Xavier of Batiscan has the writing on the back page coming through.  In this case - a signature - that of Jean Moreau, one of the pioneers of Batiscan and his uncle!!

Baptism



Today the eighteenth of April in the year 1700 was
of




  baptized by me the undersigned priest  ...





Joseph Guillet

    and child of Louys Guillet and of  Marie




    Trothier his wife godfather was Joseph Trothier and




    the godmother  and  Marie Madeleine Rivard  who have signed.






Joseph Trotier


madeleine rivard











....priest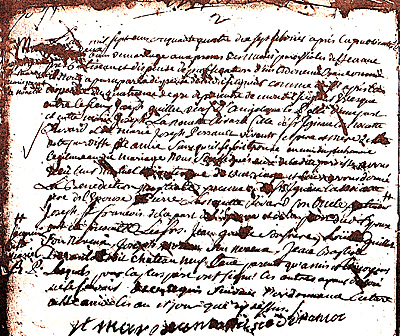 After his first wife passed away, Joseph married Josephte Rivard dit Lanouette on February 17th 1754. They were married in Ste. Anne de la Pérade.  Unfortunately, the first church register of this parish was destroyed in a fire.  Luckily this entry survived in a partially damaged book.

It should be noted that Joseph Guillet dit St  Mars  signed  in two fashions - sometimes as Joseph Guillet and as seen above: St Mars.