Fondateur de l'Université McGill à Montréal

Le 27 décembre 1776, James McGill a marié Charlotte Guillimin, une veuve âgée de 29 ans.  Son premier mariage, en 1763 était avec Amable Trottier-Desrivières, le frère de Charlotte et Eustache-Ignace dont nous avons les portraits.  Tous étaient cousin au 2ème degré de Marie Trottier, la femme de Louis Guillet (notre ancêtre).  Charlotte a eu deux fils de son premier mariage; François et Hippolyte.  François est devenu partenaire dans la compagnie de son beau-père et fut un des héritiers de sa fortune.  Quant à Hippolyte, il a choisi une carrière militaire et a joué un rôle actif dans la Guerre de 1812.  Il fut tué dans un duel.  Son fils, James McGill Trottier Desrivières était le favori de son grand-père adoptif.  James McGill a payé pour son éducation, sa pension etc.  Il a aussi hérité d'une grande partie des biens de la famille.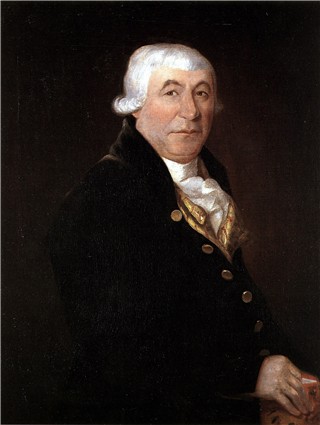 James McGill

(1744 - 1813)

Founder of McGill University in Montreal


He was married to Charlotte Guillimin, a 29 year old widow, on December 2nd, 1776.  Her first marriage in 1763 was to Amable Trottier-Desrivières, brother to Charlotte and  Eustache-Ignace whose portraits we have.  All were second cousins to Marie Trottier, the wife of Louis Guillet (our ancestral Grandparents !!).  Charlotte had two boys from her 1st marriage, Francois and Hippolyte.  Francois would ultimately become a junior partner in his stepfather's company and was one of the principal heirs of his fortune.  Hippolyte chose a military career, fought in the War of 1812 and was killed in a duel.  His son James McGill Guy Trottier Desrivières was a favorite of his adoptive grandfather.  James McGill provided for his education etc.  He would also inherit a large portion of the family wealth.